Welcome To Cargo Crush!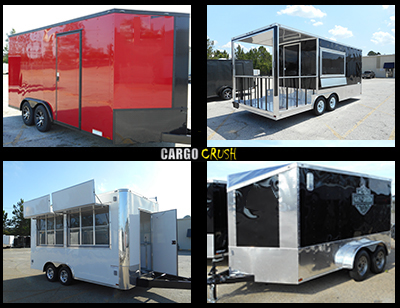 Looking for an enclosed cargo trailer? Cargo Crush sells custom cargo trailers that are built to last at the very best price.
We sell Cargo Trailers for less in Alabama!
Call: (334) 721-3385
Whether you're looking for lightweight cargo trailer or a full service concession trailer, Cargo Crush delivers on quality and value.
Affordable Cargo Trailers For Sale
For some, finding the lowest prices for cargo trailers usually means they will be sacrificing quality. Not with us. As matter of fact, the aluminum, wood and steel materials we use can last a lifetime. You want the most for your money and getting an affordable cargo trailer that you can depend on year after year should be a part of it.
Some of the most affordable single axle and double (tandem) axle trailers we sell include:
From landscaping equipment to motorcycles and moving boxes to concert gear, Cargo Crush has the custom cargo trailer for less.
Diamond Cargo Trailers
Which brand of enclosed trailers is the best? Diamond Cargo is known for building high quality haulers for less than any other competing brand. They have a great reputation for not cutting corners with materials used for flooring, framing, walls and axles. This should play a big role in helping you choose which one is right for you.
When you're looking for Diamond Cargo trailers in Alabama, Cargo Crush has the factory direct pricing and customization you want. No other enclosed trailer or hauler delivers the convenience and value that we do. Don't take chances transporting your valuables or equipment in product that uses anything less than professional grade materials and building practices.
Local Cargo Trailer Dealer
Centrally located in the state, we offer easy, local access to some of the best cargo and specialty trailers. What's more, you'll be doing business with a dealer that's established in the community. We care about providing our customers with the kind of service and value that will have them recommend us to anyone and everyone. Take a minute to call us or fill out the form on the right for cargo trailer price quotes. We crush high price competitors!
We sell the best cargo trailers in Alabama.